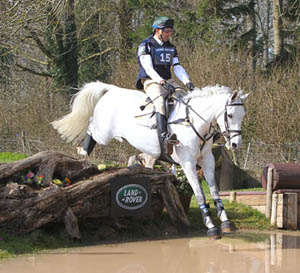 We've just finished day one at Gatcombe and we were very spoilt with the weather and ground, glorious sunshine and ambient temperatures all day and lovely ground to ride on – couldn't have been better.
It was a good day without being a day for prizes. Alex, Clover and Bluey all jumped double clear and I was really please for Darian and Jenny as both rode well and horses went well. Lala was a little green today but it is her first novice with me and she's only had four runs BE before coming to me so she is going to take a little while to get established with her job. She will be a very good horse once she gets more established and as I continue to build a relationship with her.
Womble did his dressage today and he was excited to be out so did a very mixed dressage, but I'm thrilled with how he has developed on the flat this winter.
The novice show jumping was a good course, up to height with several related lines but rode well. The cross country was a good novice track for this time of year and rode well and the ground was fantastic.
I'm back tomorrow with Hipp, Sooty and for Womble to do his show jumping and cross country. More to report back with tomorrow.
Cheers,
Bill
Posted 24th March