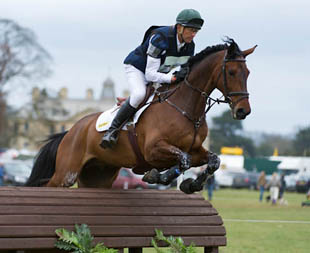 Two wins today – so a good day! Fin won the 7/8 Year Old intermediate class and Alfie (pictured) won his intermediate section, both jumping great confident double clears and feeling great in the show jumping and cross country. Really thrilled for the horses and their owners, Francis and the Prentice family respectively.
I was also thrilled with Alex who was doing his first intermediate as although he found the dressage all a bit exciting yesterday, he gave me a great feel today in the show jumping and was unlucky to have a couple of rails. Cross country he gave me a cracking ride – very confident and coping extremely well with the step up in level and complexity. For example he was very straight and true on his lines. So I was chuffed with him – he will have his day.
The cross country caused a fair amount of problems as there is plenty to do but it is there to be jumped and is a good education for a horse.
Coco, Ricky and Hipp were all doing the advanced dressage and they were all rather excited. All of them gave me some great work outside but in the ring the atmosphere got to them all – the dressage rings at Belton are notorious for being a buzzy atmosphere and mine were not the only horses to be slightly on edge – not helped by the 15 degree temperature swing overnight to now be back at more traditional March temperatures coupled with a chilly wind!
There is plenty to do tomorrow on the advanced so it will be an educational day for Ricky, Coco and Hipp.
Cheers,
Bill
Posted 31st March – photo Trevor Holt