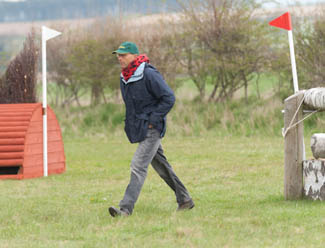 It's raining! The rain has taken us all by surprise here at Burnham Market and its still raining now! The cross country can take the rain but sadly the show jumping is already riding very deep and that's before the 2 and 3 star have even started to jump. Let's hope the rain stops soon, hard to believe I'm saying this.
The cross country has some interesting questions on it. There is a combination at 4 and 5 with some pig arcs. Then there is an oxer to a corner and a double of corners out the back.
The sunken road has a new exit from it- you jump in, then a stride, up a step two strides to an angled brush then two strides to another angled brush – the line is tough enough and you will need to jump in well and hold your line well.
In the advanced the water is tough enough on the out – you jump in over a hedge and then come out to two skinny houses on a right hand curve on two strides, which will be tricky to get on to and stay from one to another.
Sooty is on bright and early and we are looking to get him qualified for Houghton 2 star. Hipp, Ricky and Coco are only show jumping, always been the plan, and Alfie is doing the advanced.
Cheers,
Bill
Posted 6th April – Photo Trevor Holt