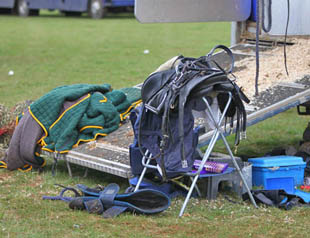 It's been a busy 24 hours as I had some last minute lessons with Brett Parbury yesterday evening (the aussie eventing dressage coach) with Hipp and Coco. As ever the training was very helpful.
We then had an early start this morning to get us to Sapey in time for Minty's dressage. Minty did a better test, scoring 34, and then was unlucky to roll a pole in the show jumping. Sadly she then got a mild dose of colic which was all very odd, and so I decided not to risk running her cross country. Very odd as she's never had it before – it was very, very mild but it's never worth risking the horses in these kinds of situation.
The day has been typical April weather with showers all day, so a mix of rain and sunshine. The ground was very good, and both cross country courses had their questions on them and over all rode well. The only fence I don't like is the sunken road type fence which has palisades down to a ditch; young horses always seem to leave knees here so for me it doesn't really work as a question.
The dressage judges didn't really give the marks to JJ and Dotty today but Dotty jumped a lovely double clear, proving to be a natural event horse. All the other horses had a mixed day – as a rider it felt like just another day to create partnerships with the younger horses, a part of their education and they all will have benefited hugely from the experience.
Darian had another double clear at novice, which means she only needs one more to qualify for Houghton 1* which is great news. Issy had the best day ever until she tripped up the step out the water and fell which was a huge shame, but neither of them were hurt and again Issy will learn from the experience.
So all in all a productive day at the office with all the horses making progress and coming on in their development as young horses do.
Cheers,
Bill
Posted 11th April