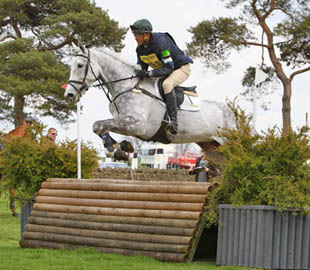 I was at one of our local events today, Ascott Under Wychwood. Crunchie was having his first ever outing in the intro and then I had Robbie, Timmy and Silver doing the BE100 and Laura and Becca were both doing their first ever BE event. Thankfully it was a good day and I was especially pleased with how Laura and Becca went, both came home with big smiles on their faces and had a good time, riding well to boot.
Crunchie will be Jenny's horse but I said I would ride him in his first couple of events as he's very green and done little in his life to date other than the odd day's hunting. He will be a cute horse for her I think.
Silver was having her last BE100 run before stepping up to Novice and she went very well with a lovely double clear; she was a little distracted in the dressage but that will come.
Timmy did a good confident double clear which was rewarding after going slightly green on me at Sapey last time out. He ended up with a minor placing which was pleasing and he is a real competitor with a great jump and good mind.
They always try very hard at this event to create a 'big event feel' and they had done so again. I was pleased for them that the event didn't end up being cancelled due to torrential rain which they've suffered from in the past. If anything they could have done with more rain and have clearly not had as much as at home – however they had done a good job on the course and ground, with some good educational fences for young horses.
An early start tomorrow as we head to Weston for Hipp and Coco's last run before Badminton, although I'm in two minds about running them cross country. We will see what tomorrow brings.
Cheers,
Bill
Posted 14th April