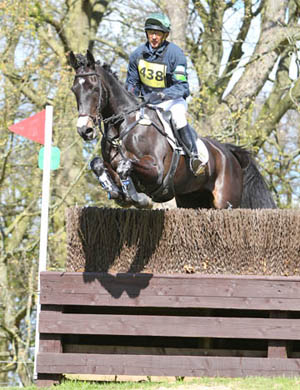 Today we had another early start, heading to Weston Park with Sooty in the intermediate and Coco and Hipp in the advanced.
Sooty was having probably his last cross country run before Houghton CCI** and I just took him slowly but was keen to run as I wanted to try a new cross country bit that I hoped would give me more adjustability, giving me the ability at Houghton to go faster – the research went well, Sooty liked the bit so it was worthwhile. He did a good test scoring 31 and then tried very hard in the show jumping for one down and then went well cross country with a nice steady clear.
The cross country for the intermediates had a strange test coming in to the water, a skinny brush followed by a really sharp left hand turn to a drop in to the water, one of those fences that didn't have a natural flow when taking the direct route. You get those fences sometimes and you just have to get on with it. The show jumping arena was very poley, with thin poles and lots of them, and the ground was quite holding so the show jumping proved to be very influential with many poles falling for many competitors. I was very pleased with Sooty who just had one rail.
I only did the dressage with Hipp and Coco which went well. I had wanted to show jump but with the ground deteriorating I just didn't see the point of risking Hipp and Coco two weeks away from Badminton. So it's time to head home, hopefully in time for dinner with the kids, ahead of what will be another busy week although, thankfully, I'm at home all week.
Cheers,
Bill
Posted 15th April