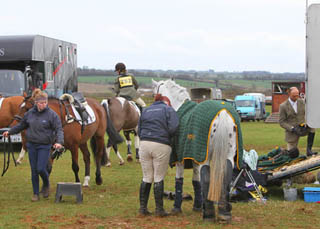 We've been at Milton Keynes today. I was anxious about spending the whole day rather wet but somehow we managed to dodge the rain more or less all day, which makes it much easier and more pleasant for the girls, horses, owners and me!
All the horses went OK today; Minty was the only prize winner with a 6th and a nice double clear. The others will all have their day but are still work in progress.
Silver got tense in the dressage and never settled but then jumped a nice double clear, she is ready to step up to novice. Timmy and Crunchie were both a little green in the dressage but it will come. They were then unlucky to role a pole in the jumping and went well cross country. Dotty was much better in the dressage and I thought did a nice test. She then jumped well, being unlucky to have a pole and then was again very mature beyond her years cross country.
The cross country course was educational – a good course for young horses, not overly big but educational. The show jumping was an interesting track with a few fillers.
Issy and Hannah had a good day – Hannah, despite her nerves, managed a solid double clear and finished with a big smile on her face! Issy jumped a lovely show jump round and then had a stop cross country as she approached a log ditch fence with not quite enough power – but her day will come.
So a good day for all the horses and they will again have come on.
Cheers,
Bill
Posted 24th April