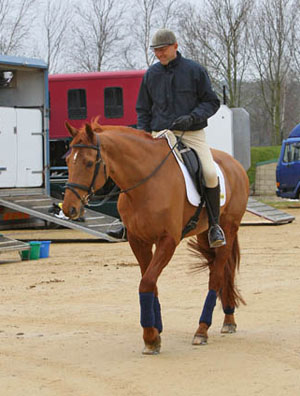 I've been at Hunters today for some dressage match practice with Hipp, Coco and Ricky. I was thankful for their indoor school to warm up in as it continued to rain and rain.
Ricky tried very hard and I was pleased with how he went. He has come on a lot in the last six months and I feel he's ready for his first CCI3 star test at Saumur in a few weeks time.
Coco and Hipp went well although, as ever, I felt it could be better. However on a more positive note I do feel they and I are more secure in the work and what we are all trying to achieve. It was good to get in the ring and ride the test in a 'test environment'. So a valuable outing.
If the rain keeps up, which seems likely, I fear Withington will be cancelled which isn't the end of the world, but is frustrating particularly for owners. I luckily don't feel it will be too disruptive for the horses spring goals.
Cheers,
Bill
Posted 26th April