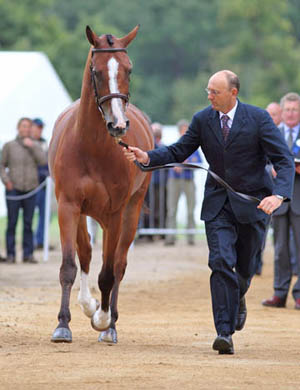 The sun has been shining today at Jardy which has been a very pleasant change from the weather we've had at home over the last month.
I'm still finding it hard to 'get over' the cancellation of Badminton, having now had a day to reflect. With only two horses to ride it has really begun to sink in – two sound and fit horses with everything being focused on preparing for a particular moment and it's just taken away like that – nothing anyone can control, just very very bad luck – a bitter pill to swallow, especially given missing out last year as well – for me Three Days (along side the training process) are why I do this sport and missing out on the big goals is hard to stomach.
Anyway back to Jardy – we did our trot up this afternoon, which was thankfully, as expected, uneventful.
I've also had a chance to walk the cross country course: it is about right, technical in places but not over big – you have a few wide oxers with big ditches. The ground is fine, it is sandy and we have already had rain but that helps if anything, just softens it up a bit. There is quite a big log pile right on the edge of a bank which you jump down into space over and then down a steep slope to two angled brushes – that will be an interesting test. The dressage and show jumping are on big sand arenas with the usual groovy french music playing in the background. The French know how to put on a good show at their events which adds to the atmosphere.
The horses seem settled and worked well on the flat this morning and have had a hack this evening. They do their dressage tomorrow afternoon. Hipp is on just before 2.30pm local time and Coco towards the back end of the day at around 5.30pm.
Cheers,
Bill
Posted 3rd May