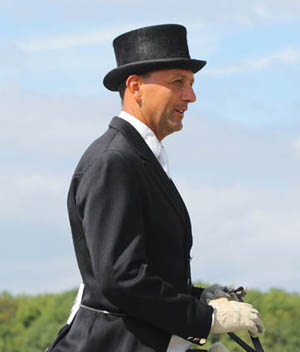 Well it's been a busy day doing dressage here. In short Hipp is lying in 10th place and Coco in 4th place after the dressage – rather annoyingly Clayton fills the top three places with his horses. Never mind. I am disappointed not to be doing a four star test as I feel I would have got similar marks and quality of work if the test had been a four star but I've promised no more whinging about Badminton so I will move on!
Hipp did some good canter work, he was a little tense in the trot and had a hind foot out in two of the halts which was frustrating – he also had quite a disparity of marks but never mind! Coco did a smooth test, it was one of those when you almost feel like you're riding it in slow motion. I was pretty pleased with the test but a bit disappointed with the score.
The good news is that I have the same test at Saumur in two weeks time so it will focus my mind in terms of what I need to work on between now and then. Cross country doesn't start until 4.00pm tomorrow so it will be a long wait and I hope we don't get too much more rain between now and then, although the ground can take it.
Cheers,
Bill
Posted 4th May