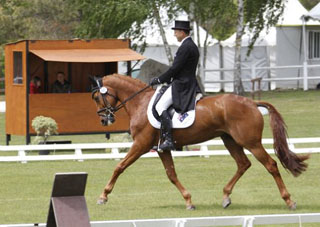 Today the focus was on Hipp's dressage and getting a better handle on the course. Hipp worked in really well for his test, giving me some of his best work ever. However sadly in the ring things didn't go quite as planned. He struck off on wrong leg after rein back, shied in one of his serpentines and bunny hopped in one change – not my best day at the office, in third so far on 49.2. Chris Burton is in the lead on 47 but I fear there will be a lot go in front of me by the end of tomorrow. I thought I rode fairly well, the mistakes cost me a mid 40's mark – pretty gutted.
Yesterday was a sunny day here in France but today is a lot colder with drizzle. I worked both the horses with help from Brett Parberry who has arrived to help us with the dressage. I like working with him as he seems to give me confidence and we think along the same lines.
On to Coco tomorrow. I hope that goes well and I do my best riding wise and get a bit of luck.
Cheers,
Bill
Posted 17th May – Photo Les Garennes