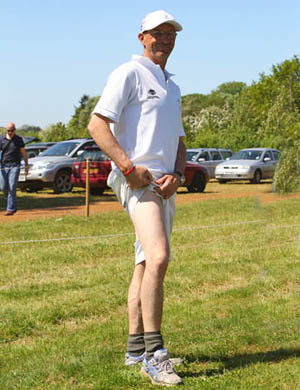 Today I did my dressage on Fin and Alfie and it was a mixed day. Fin remains Mr Consistent and did a nice test to score 47.5 and lie joint 5th overnight with half the large field of 100 plus horses gone. He is a beautiful horse to look at and so easy to train it makes my job easy to do.
In the afternoon I had Alfie doing his first CIC*** and he found the test difficult. It will hopefully be the worst test we ever do together, he scored a qualifying mark 60.0 but it was a very disappointing test. He will come, he just needs more time and more match practice. He will do a winning test but just not today.
I've walked and wheeled the CCI** cross country and it (and the CCI*) are not dissimilar to last year although I think there are a few more skinny questions this year. I'm looking forward to riding it on Saturday. I'm hoping the ground doesn't dry out and more than it already has but I fear the sun and wind will be against us – but such is life.
Tomorrow I have Womble and Sooty doing their dressage and Darian goes cross country.
Cheers,
Bill
Posted 24th May