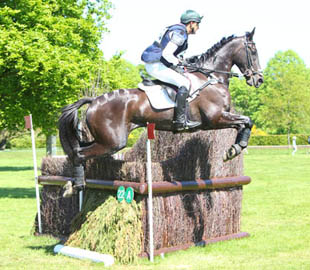 Well it's the end of cross country day at Houghton and it's been a mixed day, and overall one I'd rather forget in many ways.
Fin was first in the two star this morning and went brilliantly cross country getting the time, one of only a few horses to do so. However I completely messed up and jumped the wrong fence at number 18. No excuses, I was just going fast, sighted the wrong fence (two next to each other) and the rest is history – gutted for Francis and Fin as they don't deserve it and I feel shocking about it all.
Sooty was up next and jumped a lovely clear cross country, finding it all very easy and coming home with just 0.8 of a time penalty.
Finally I rode Womble who again went well and felt very confident cross country. Sadly I picked up 20penalties in the water; he jumped in confidently but then over turned when I asked him to shift right and just ran out of room to the skinny – again gutting. I then put the hand brake on and came home with a few time… not without one final incident at the last fence which he hit as we had a difference of opinion on our take off spot.
Darian had a great end to her first three day event, jumping well to complete the competition with just one down.
Cheers,
Bill
Posted 26th May