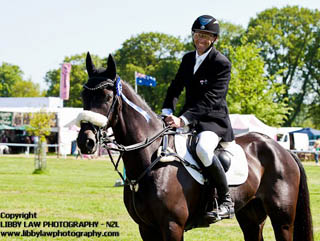 Sooty and Womble both came out bright this morning and the trot up thankfully went without incident, other than my wife giving me feedback for not holding the reins properly when I trotted up the horses, I don't know what came over me, half asleep in the glorious sunshine I think.
We then had a long wait for our show jumping to start as the CIC*** ran first. My good friend Sam Griffiths won the section which was great to watch and it was timely as today is his 40th birthday, I think I need to start counting backwards myself!
Anyway when we did jump both Womble and Sooty jumped very well, however each had an irritating single rail – Womble the last fence as he got a bit against me and just tipped it out behind and Sooty didn't quite get high enough in front at the third, frustrating as apart from the one fence both horses jumped brilliantly.
Houghton has not been the best of events for us but that is horses and that is certainly eventing for you, one week you're up and the next week you are back down to earth – it's a great leveller.
I'm looking forward to being at home now for a good while and spending some time schooling the younger horses, and getting a bit more time with the kids.
Cheers,
Bill
Posted 27th May – Photo Libby Law