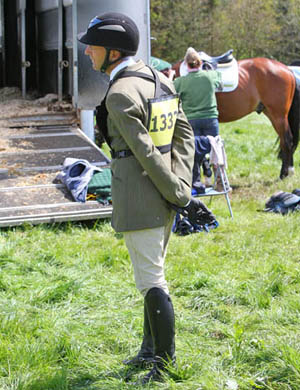 I've been at Salperton today with Alex, Lala, Coco and Hipp. The rain stayed away all day which was good and the event lived up to the high expectations I have for it as a rider.
They have again invested a huge amount in it and they've designed a great cross course built beautifully by David Evans. I felt the cross country course was an improvement. It is very different. The start is in the same place, they run wider round the first loop on new ground and then instead of doing the first road crossing, go right through the woods, cut in front of the house then go through the woods and come out above where the control box is, have a loop there and then come back to the water and go back through the woods as last year. Trickiest combinations were 9ab angled brushes where some had run outs to the left of b and 14ab two big left hand corners on 4 strides. All very big, beautifully built and decorated. The ground was great. The show jumping also caused problems all day – clears were rare as I found myself!
I was thrilled with Lala given the course was big and required a bold jumper for the cross country and a careful horse for the up to height show jumping. Although it was big cross country it was clear for the horses what they needed to do.
Lala was off the pace in the dressage but it will come. She then jumped a lovely show jump round and was unlucky to role a pole before storming around the cross country – I was thrilled with her and she has really come on from her run at Catton and feels like she will cope easily with intermediate and go further.
Alex did a smart test beating some established four star horses. He again (like Catton) didn't like the ground in the show jumping but he got better the further he went and although he rolled a couple of poles I was very pleased with him. He went very well cross country, showing maturity from the early grounding he's had with me as a young horse.
Hipp and Coco were having a dressage and show jumping outing. It was never in the plan to run Coco cross country and given its not the kind of ground Hipp likes we also decided not to run him cross country. I had a day of mixed fortunes with them, Hipp did a cracking test to lead the AI on a 24, but he got stuck in the tacky mud in the ring and rolled 4 poles. I'm not worried but I was disappointed as hed warmed up well despite the fact I could feel he wasn't enjoying the ground.
Coco was very pleased to be out and despite plenty of work he squealed like a pig during his dressage test and was generally too full of himself – I'm glad he's feeling well but I will need to have a different game plan for the warm up for Barbury! He then jumped a cracking show jumping round and was unlucky to just roll the front part of an oxer one from home.
The setting is very beautiful and so let's hope for not too much rain tonight so we can head back tomorrow with the novices – I'm riding Tommy, Silver and JJ tomorrow which I'm looking forward to.
You might ask why I've noted I'm NOT grumpy – I'm obviously devastated about not being selected for the Australian Olympic team but I've got my head around it and am on with my life and 'the next thing'. I'm a reserve so not completely out of things and have some lovely horses and exciting plans ahead. Contrary to what one might read on twitter Jenny has not moved to Canada!
It's amazing how a bit of banter among friends can be misinterpreted by an observer and then in the modern day of social media the rest is history – I find it extraordinary and something I cannot really comprehend. Never mind!
Cheers,
Bill
Posted 23rd June