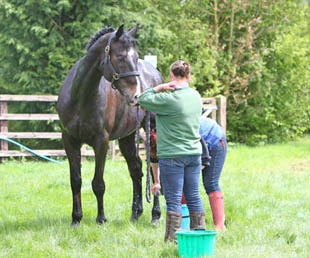 It's getting very boring (for everyone). After a great day's competition yesterday I was very sad to get a text at just after 5 this morning informing us that Salperton was cancelled. Gutted for everyone especially the girls who'd been up since 4am as we were leaving at just before 6am.
The only silver lining to this very dull cloud is that I got a bonus day at home with the kids and Jenny. I taught the girls, rode a few horses and most importantly played chase with Josh and Urssie in the school – better known as being the 'sausage in the sandwich' (my horses are mostly brown or chestnut) and their ponies are grey! So Josh and Urssie chase me around typically when I'm riding Robbie our young horse.
A busy week ahead with a focus on preparing Coco in case we get a call up for London and Hipp ready for Aachen. I'm crossing my fingers that the weather improves and that Barbury will run as I am looking forward to taking Alex for his 2 star qualification (hopefully), Coco for the 3 star and JJ, Silver and Minty to do the Novice. Coco and Hipp are also doing the Olympic combined training which will be very helpful.
So lots to look forward to!
Cheers,
Bill
Posted 24th June