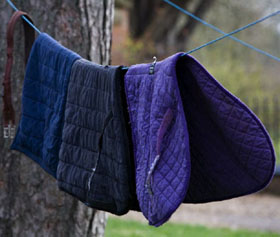 We were getting ready for a weekend of competition at both Barbury and Eland Lodge when we heard that yet again the weather is playing havoc with things. Eland Lodge, one of our favourite events for lower levels, was hit by the flash floods and several of the fences have been washed away – gutting for them and for anyone planning to compete there. The weather just seems to continue to cause chaos everywhere which is now becoming very dull.
It's also having a knock on impact on feed prices and I dread to think what is going to happen to the cost of bedding and feed this winter – I was hoping that July would see the sun, but almost unbelievably the long term forecast also seems to be rather grim – I'm hoping they've got it wrong but fear otherwise.
Getting horses consistently out to compete and get qualified for their various personal goals is becoming almost an impossibility, several of our horses (like many other people) have now had at least half a dozen runs cancelled – tough for owners.
Cheers,
Bill
Posted 27th June