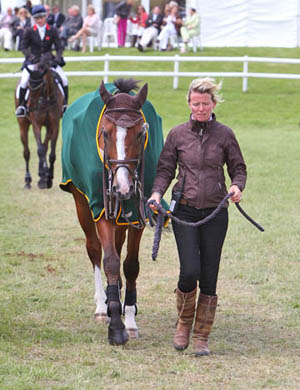 Today was a day of dressage at Barbury – Coco and Alex were doing the CIC*** and CIC** respectively. Both went well, I was a bit disappointed with both tests in some respects but there were good moments. Coco was good in the trot and canter but a little unsettled in the walk to rein back (which he is still green at in that he's not relaxed in to or out of the movement). He ended up in the top 10 after the first day which was not to be sniffed at.
For some reason Alex was up against many Olympic combinations in his 2 star section (not quite sure why Olympic horses were running around the 2 star…) anyway he ended up with a 50 which was respectable and there is a lot more to come – so he will do a very smart test once he's established at this level.
I also had Silver and JJ doing day before dressage for their novice classes – they both tried hard but are still green at Novice level, but their dressage will come as they strengthen and become more established.
The ground is excellent and has benefited from the wet weather we've had, there have been some interesting changes made to the course so I'm looking forward to a good weekend of competition.
Cheers,
Bill
Posted 28th June