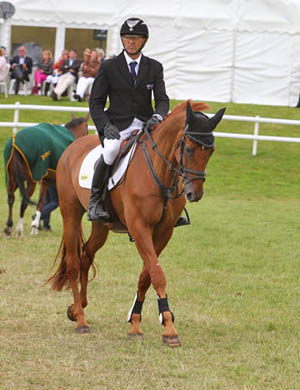 Today I did the Olympic Combined Training class with Hipp and Coco and Silver, JJ and Minty did the Novice class. The combined training was in an arena above the main arena but still very much amongst the trade stands – it was absolutely blowing a gale and the flags and banners were all creating an enormous amount of noise which some horses coped better with than others. It sadly led to Hipp getting a bit tense and not showing off his best work – he did some lovely trot work with great lift but he didn't really let go until the last minute or so of the test – so sadly scored an early 50s mark.
Coco I thought did a lovely test – one of his best ever – however the judges didn't quite agree. He was calm and expressive so I took a lot of confidence from the test and it was well worth taking part in the class.
I had an interesting time with the Novices, JJ was the best of the day jumping a double clear – he tried very hard given he's still so green at this level. He was green but took it all on and was very brave, so we continue to progress towards qualifying to do a one star at Hartpury, fingers crossed, if there are no more cancellations!
Silver found the day quite tough and had a silly green run out in the show jumping, spooking at some of the flower pots blowing in the wind. She then went well cross country until near the end when she wouldn't go over the shiny dolphin jump in the water. She got her head splashed with water when she first went through the water and I don't think she then really understood the question and so got a little overwhelmed and we had to walk home – she will be fine and it will come, just one of those things – not much fun.
Minty was more relaxed and did a respectable dressage. She then rolled one pole in the show jumping but jumped a good clear cross country. There was plenty to do on the cross country and so overall I was very pleased with the horses today.
Back tomorrow for the show jumping phase of the combined training 4star class and for the CIC3star show jumping and Alex's jumping phases. Lets hope the rain stays away.
Cheers,
Bill
Posted 29th June