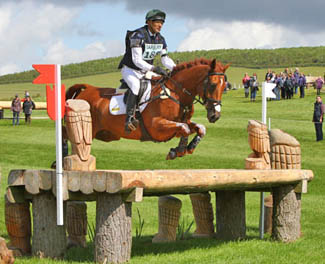 Today was all about the jumping. Coco and Hipp did the Olympic Combined Training show jumping class this afternoon. Alex did the CIC** show jumping and cross country and Coco the CIC*** show jumping.
The highlight of the day was Coco's show jumping in the Olympic class. He jumped a lovely clear round to move up and finish 3rd behind Jock Paget and Laura Collett. He moved ahead of Chris and Clayton on their Olympic rides which was a good boost for me and my confidence, I felt I rode really well and Coco jumped brilliantly. Hipp sadly had a couple down, I'm not really sure why, its just not been quite his event, however it was still worth bringing him as I feel it has set him up well for Aachen next weekend.
Alex had a very mixed day, I'd tried something different with his tack today which didn't really work as I thought it would help him with his jumping but it backfired and did the opposite. I'm very frustrated with myself as I know the horse is better than the rails he had today in the show jumping. It's back to the drawing board with him to make sure he is confident again in the show jumping. Thankfully he jumped a steady confident clear around the cross country so although he's sadly missed out on his CIC** qualification it is all fixable with some homework.
Back tomorrow for the 3 star cross country with Coco.
Cheers,
Bill
Posted 30th June