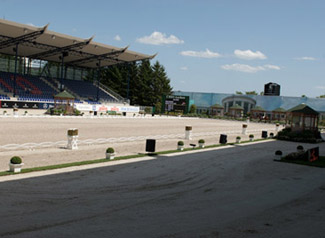 It's been a productive day, Hipp did a good solid test today. I felt he did some of his best ever canter work, only really showing tension in his first halt and then his rein back. He is not a flash mover, unlike many of the horses here, but he is very correct. So I was pleased with the test which left us not that off the pace in a world class field.
This evening we show jumped in the main arena and I was unsure as to how Hipp would react with all of the atmosphere, but I couldn't have been more pleased. The show jumping course was big and the atmosphere was like no other I've ridden in before. Hipp held his composure and kept really focused and relaxed. It was a really big jumping track and I was pleased with our round with just one down.
Tomorrow's cross country is big so we will have to be on top form to get around in good time and without error. The first water is really strong with a big drop in then a big triple brush, two long strides to a corner which is very up to height, and there is a lot more to do after that.
We are on in the morning about half way down the field and I'm aiming to have a good crack
Cheers,
Bill
Posted 6th July – Photo Trevor Holt