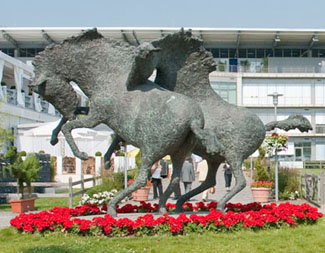 Well today didn't quite go to plan, sadly Hipp and I had a glance off at the corner coming out of the first water. I had predicted this would be an influential combination and indeed it was. I was gutted as we had a foot perfect round everywhere else.
I got in to the water just how I wanted but then Hipp didn't travel across it as well as I wanted and I guess I didn't react quite as I wished I would with hindsight, anyway we didn't quite get from the skinny to the corner as well as I wanted and that was that.
He travelled brilliantly elsewhere around the course and we came in just outside the time. Frustratingly I would have finished in the top 10 without the stop but life is full of ifs, buts and if onlys.
Sadly the Australian team rather fell apart as Clayton withdrew, Sam had a fall at the same corner as my mishap and only Chris Burton came home well with two in the top 10 including a win – good for him.
Aachen is a great event and I hope to come back at some point in the future.
I am en route home to ride at Glanusk tomorrow but sadly Jenny has just called to let me know that to has been cancelled. The weather in the UK is unbelievable – that is the thirteenth event we've been entered up for that's now been called off. Frustrating for all.
The worst is that the weather is not set to improve so I'm worried for Gatcombe but I guess there is not much one can do.
We have a training clinic this week with some dressage help from Brett Parbury which will be helpful, just up the road at the Unicorn Trust which suits me well.
Cheers,
Bill
Posted 7th July – Photo Trevor Holt