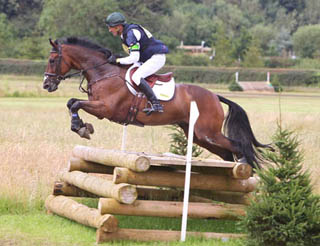 While Ursula and Jenny were busy trucking I had a day of riding, I had afternoon times at Aston so was able to ride a few at home this morning which was good and then I headed to Aston at lunchtime. Alfie and Womble were doing their show jumping and cross country in the 8/9 Year Old section. I was really pleased with how they both went, neither won a prize but that was not the point – both achieved their goals.
Womble was seeking a qualification for his CIC*** run and he achieved that admirably with one down show jumping and a clear cross country round. I was pleased given he's not been out since Houghton due to cancellations and he took it all in his stride, he's definitely a horse for the future.
Alfie was having his first run since April due to cancellations – it shows how the calendar has been decimated for some horses, especially those that don't need mileage at the lower levels. There is no point looking backwards only forwards and the main thing is Alfie took it all in his stride – he jumped beautifully and was unlucky to tip a rail in the show jumping and then cantered around the cross country looking like an old pro – he is a cross country machine and, like Womble, is definitely a horse with a big future.
Ann and Nigel continued to work their magic to ensure the event ran and ran well. They moved the show jumping to the all weather arena and the course, although not overly technical in terms of related lines or size of fence, felt like it rode tight and bigger than it was as in the smallish space in the all weather the fences came up thick and fast.
The cross country ground held up remarkably well, the only place it cut up was in the corners up the back end of the course on the flat. I think this is due to the fact that when Nigel builds fences he puts a good base of stone in front and behind the fence (insitu so to speak) and so fences hold up well in front and on landing. There were no significant new fences on the advanced although many were sited slightly differently so it required one to think carefully. There is however a new bank for the Novices which is interesting.
On the advanced some of the more challenging fences included jumping the log in to space off the bank down to a triple brush on three strides, and then a couple of large box brushes on three strides, and two off set tables on four strides – these all had proper advanced dimensions and needed to be ridden forward and accurately.
So all in all a good day at the office.
I'm cross country teaching tomorrow morning and then working horses at home before heading back to Aston on Monday with Lala, JJ and Tommy and Jenny is joining me with the mighty Spotty.
Cheers,
Bill
Posted 21st July