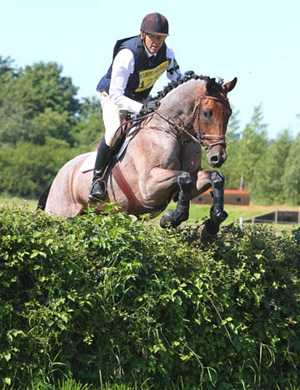 I've had a good day at Aston, lots of good things about it – excellent ground, nice horses to ride, sun was shining and the whole of my family were there – Josh, Ursula, Jenny, and not forgetting Gracey and the dogs! So a good day out and a rare treat in terms of the 'total package'!
It was nice to see Nigel had invested in some innovations to the novice course. The bank at fence 6 was a tough ask but not overly punishing for a horse if it was obedient – so I thought it was an excellent fence to help a horse grow in experience.
The novice course was not overly long but had some nice variety in it including an owl hole, a double of corners on a related line. The intermediate track was a great confidence giving track for a horse – and again had some interesting questions.
Tommy went well today with a pretty good dressage despite him finding the going in the arenas not really to his liking. He still scored well on 28.5 and he then jumped a nice double clear – given the ground was good I let him roll on cross country and he got the time which was pleasing. He was in the lead for most of the day and annoyingly got pipped at the post by 0.1 at the end of the class – still a good result and also gives him a qualification for a Novice Regional Final next year.
Lala also had a good day out with a nice double clear and she gave me a great feeling cross country – which was really pleasing, she ended up 6th.
JJ also got another novice qualification under his belt for his CCI* goal later this year at Osberton. He is always eager to please – I tried a different bit today, and he seemed happier in it – thanks to my wife for her creativity and persistence with bitting options – I tend to get in a rut and she is always encouraging me to change and try less.
So all in all a good day at Aston and the rest of the week is looking like we'll have the sun out at home, fingers crossed that is right as we have the roof coming off the house at home!
Cheers,
Bill
Posted 23rd July