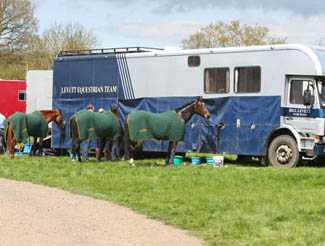 I've been at Aston today with Alex, Silks and Womble. It was a good day out – Silks was having his first run for a while and it was great to have him back out – I ran him slowly but he did a lovely double clear, cruising around the cross country and making it all feel very easy. He is a lovely horse and I'm excited to have him back in action.
Womble was only ever going to do the dressage and show jumping as he heads to Hartpury for the CIC*** tomorrow. He won the dressage with a 27 and then jumped a lovely show jump round. The last fence was an oxer on 6 or 7 strides to a planks – I decided to go on 6 when I should have waited for 7 so he tapped it out –my fault.
Alex was the star of the day finishing second with a nice dressage and then a confident and fast double clear. I was really pleased with him as he was confident in all three phases – I've been working hard on our show jumping and was really pleased with him today.
The show jumping was on the surface which works well and the cross country was a nice track. The time was tough enough and there were some interesting questions including a hedge on four waiting strides to a pimple and then two long strides to another pimple. People were overriding the first distance and so getting under the first pimple and then struggling to make the long two strides to the second pimple – a good cross country question requiring accurate riding and the right speed at the right time.
I came home to ride Alfie and Hipp ahead of Hartpury, we head there early tomorrow with Womble doing his first CIC*** and Alfie having his first run in a while.
Cheers,
Bill
Posted 9th August