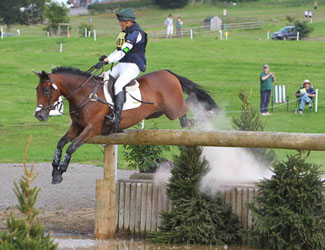 The trot up took place this morning without incident (always a positive!). Then it was on to the show jumping in the main arena. The course wasn't as big and square as I remember it being last year but there were still a lot of related lines and plenty of turning. Both of the horses went really well with Alfie jumping clear and Womble having an unlucky four faults. I was really pleased with both horses.
It was then on to the cross country and they went brilliantly – I couldn't have asked for more. It was a strong track and caused lots of trouble but both went superbly, jumping confident clears around the track – I was thrilled! Alfie hasn't run much this year driven by endless cancellations and rerouting and so I was over the moon with how he ate up the course, he is a cross country machine. Womble was doing only his second advanced track and first 3 star and I couldn't have asked for more. He went round so sweetly and confidently – I took him long at a couple of fences including the second water which had caused endless trouble even for experience four star horses. I was again thrilled.
So I drive home a happy man tonight – ahead of turning around to take some of the younger horses to Aston tomorrow for an unaffiliated event.
Cheers,
Bill
Posted 11th August