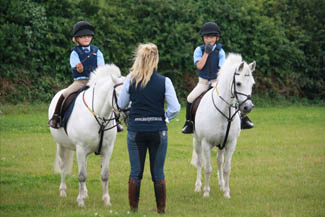 Josh and Urssie have been at pony camp this week and they've had a ball. They yet again have come on in leaps and bounds – they'll soon be taking me on. They've been doing all sorts of fun things and Gracey took some great shots of them jumping and generally having a good time.
I'm always amazed at how much they progess each summer and how much fun they have charging about in a structured way with their ponies. They still look so small but they are now jumping fences with confidence that I don't think I would jump at their age! We are blessed with two brilliant ponies which helps although they still have to kick.
Lots of fun have been had by both of them and they've come home tired, grubby but very happy!
Cheers,
Bill
Posted 25th August – photo by Gracey