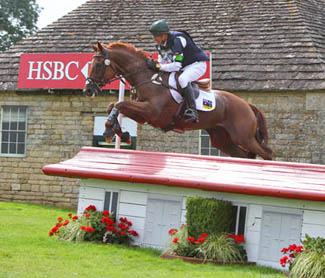 Well Hipp and I didn't have a good day today. To cut a long story short he jumped the first few well, very good through the Leaf Pit. Then I got the job done in Discovery Valley and rode it as I wanted to, dominating Hipp through the brush to ditch to brush – it wasn't pretty but it was effective.
I didn't get the best shot in to the first Trout Hatchery but we got in and then it was scruffy through the double of angled brushes but we got through it and he was obedient to go despite chipping in two strides. However it all went wrong at fence 15, a set of white rails to a corner on 4 forward strides. The fence itself wasn't really the problem, it was that he just wasn't travelling on the ground. He really, really didn't seem to enjoy the ground and didn't travel across it right from the beginning so when I tried to move for the four strides he didn't respond and we ended up on a half stride with a glance off.
Gutted and a long walk home.
The course caused lots of problems, lots of horses didn't really cope with the ground, I'm really not sure why. Burghley remains a unique event which I absolutely love BUT it reminds me it only suits some horses and those with big engines who can cope with any ground, or at least what we experienced today. It walked beautifully but rode a bit dead and gluey in a way that surprised me.
Thrilled for Sam and Happy – hope they hang in there for today and get the result they deserve, they are a great combination. Also pleased for Sinead, she looked a class act all the way and she deserves the success as I personally thought she should have been on the US team. Parklane Hawk again proved what a good horse he is and Andrew (Nicholson) – what can I say, he's THE best cross country rider in the world in my book.
Cheers,
Bill
Posted 1st September