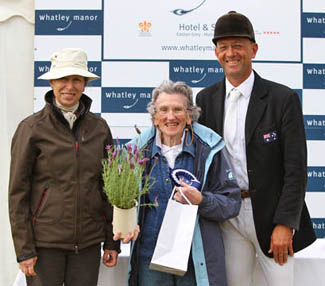 It's been a long but productive day at Gatcombe today. Hipp won his OI class which was great after the events of Burghley when he really didn't seem happy at all. Hipp felt back to his old self today, show jumping well and then skipping around the cross country inside the time. My reflection is that he really did not enjoy the ground at Burghley.
It was nice to have Silks and Ricky out and about. Silks did a smart test but was a bit of a jack the lad in the show jumping, full of the excitement of being out and about so sadly rolled a pole.
Ricky, who is aiming for Boekelo, did an OK dressage test and then jumped a lovely show jumping round, and went well cross country – I feel we've got a good cross country partnership.
Alex was doing his dressage for the 2 star and didn't have the best of days, scoring a 59. He got tense which was a shame – but I'm hoping bad dress rehearsal will mean good performance at his next outing at Le Lion.
Womble was also doing his dressage today in the 2 star. After our misadventures at Blenheim in the warm up he did a lovely test with just a few moments of tension, scoring well particularly in the trot work.
Tommy and Silver did their dressage for their novice tomorrow and are at opposite ends of the score board sadly. Tommy did a good dressage and is 3 points in the lead on 26.5, the judges seem to really like him. Silver I thought went better but the judges just didn't seem to like her. I was disappointed with her score as she has nice paces, but her day will come.
It was nice to be back in the winners enclosure at Gatcombe, both nice for Vera to pick up a prize and have her photo taken with the Princess Royal – not for the first time, I might add – maybe we need to ask her to come to all of Hipp's events to ensure a win?! Hipp was the only one in his section to get the time and he did it with some to spare, he felt on top form.
The water jump near the end of the course seemed to be difficult to get through smoothly but after my third go on Hipp he went through it beautifully. The ground was not hard but by the end of the day had loosened up in a lot of places. It looks like the weather is going to hold so the next two days at Gatcombe should make for a good event.
A huge thank you to Wendy Evans for accommodating Hipp and Womble after the disasters of the last few weeks.
Cheers,
Bill
Posted 14th September