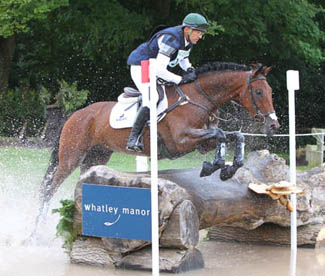 Alex and Womble went brilliantly today at Gatcombe in the CIC**, I couldn't have been more pleased with them both.
Alex jumped a lovely show jumping round just rolling a pole in the last part of the treble as he made up to much ground in it. Womble jumped a lovely clear, he was giving the fences a lot of air – I went back to the bit I usually ride him in (I learned my lesson at Blenheim having too much in his mouth) and I was really pleased with how he show jumped.
Both horses then went beautifully cross country – they felt absolutely top class. The corners and water were causing a few problems and some uncomfortable jumps and both of them stormed around brilliantly making it all feel easy. I couldn't have been more pleased.
Womble finished 6th and Alex was just outside the placings in the 2 star in a very big field.
That's it for Womble for the season, he's done enough this season, stepping up confidently to advanced and he's still only 8. Alex will head to Le Lion D'Angers for the 7 Year old champs.
Cheers,
Bill
Posted 17th September