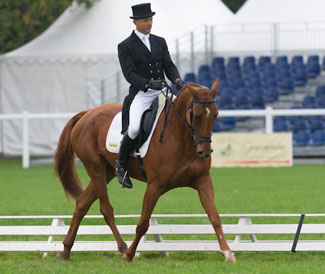 Alex did his dressage today, he tried really hard and I felt he did the best test he could for him and so I was very pleased. He coped well with the atmosphere and is on 47.8 in 4th place – with scores closely bunched other than Kitty who is out in front on a 41 with Persimmion. So couldn't be more pleased with Alex.
I have also finished rewalking the course, it is quite similar to last year but the other way around – what was the second water is now the first (where Womble fell) and I think the course is a little bit softer, but I don't wont to get complacent as there is still a lot to do and the length is 9.45min. However despite all the rain (and more predicted) the ground is still ok, I do think the earlier horses will be slightly better off so I'm glad I've got a relatively early draw at number 17.
Hipp has settled in and is working well on the flat and enjoying his hacks around the racecourse, I will give him a jump and pipe opener tomorrow.
Lets hope the rain eases off.
Cheers,
Bill
Posted 18th October