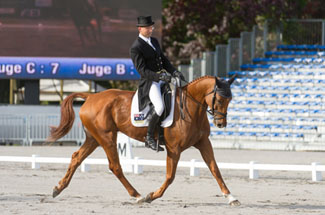 Well today has seen Alex do another dressage test, hot on the heels of Le Lion, Unfortunately it was not quite as good as Le Lion but only a few marks difference scoring 51. We had a lovely sunny day down here and I wonder if he had had slightly too much work by the time he went in as the unexpected warm weather took more of the edge of him and made him slightly quieter than I was expecting.
Sadly I think the weather is about to change for the worst in the next couple of days.
Hip continues to be very chirpy and will not do his dressage until Friday. I walked both courses today and there is a lot to do with plenty of turns and a couple of very decent water complexes, the first coming very early, and forward turning distances. The 4 star is about 11 min but all flat with about 7 fences positioned on the top of banks. I think it will be a real test on cross country day, as it should be at four star. The event seems to have progressed hugely since when I was here with Clancy years ago, they've done a huge amount with the ground and development of the fences and infrastructure.
Cheers,
Bill
Posted 24th October – Photo Trevor Holt