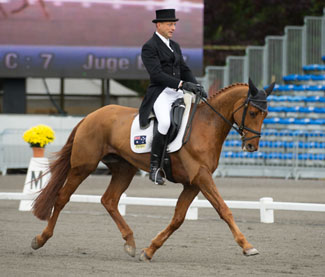 It was great to have a nice test on Hip today and be up with the leading dressage scores. He was in the lead until lunchtime today but has now dropped back to 7th but I'm still thrilled with him. And also pleased to get three 9s for my riding!
Hip tried really hard and did some of the best work he's done in the ring and that's all you can ask for. I've had a good feeling about how he's been working on the flat over the last few days so I'm really pleased for the horse and also his loyal owners the Leggetts – who have been patient and long term supporters of Team Levett.
There are three out in front in the 30s but after that we are still pretty closely bunched and I'm not far off the pace in 7th. There is rain forecast tonight so let's hope not too much comes. The course should suit Hip but we will have to both be on our game to go clear and close to the time.
However for now we should reflect that the first phase has gone well and I will just be taking one day at a time.
Until tomorrow,
Cheers,
Bill
Posted 26th October – Photo Trevor Holt