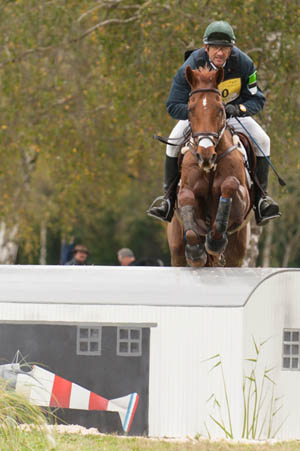 Well there's not much to say about today other than it's been a day to forget.
In short I didn't run Alex as he's managed to knock in to himself over night and although he will be fine in a day or so it's just not worth risking him. Gutted for his connections as this on top of the cancellation of Le Lion is tough to take.
So it was then down to Hipp and, in short, after a personal best for him in the dressage he rather let the side down today. He jumped the first early combination beautifully at fence 3, which caused a few casualties including some well known names and the overnight leader. He was then quite naughty, ducking out at the second duck in to the first water. Worse was to come though with a further duck out at the second part of the bounce in to the second water, he was sadly naughty there as well. A further problem a few from the finish was the end of Pau for me.
I'm gutted for the Leggetts as they put their faith in me allowing Hipp to come and sadly Hipp has not come up for it. Sadly I think he's telling us he doesn't want to compete at this level anymore and I'm gutted about that as I love the horse and would dearly loved to have finished on a good note – but it was not to be.
The only silver lining to a very cloudy day is that Hipp seems to have physically pulled up very well from today.
Nothing to be done about it.
It ends a disappointing three weeks for me on the back of a disappointing 2012. It had so much promise but has ended up being my worst year in many, many ways – not least being so close but yet so far from the Olympics and losing Sunny.
There's no point dwelling on it – onwards to 2013 and I'm determined already that it will be a better year. I'm going into the winter determined to improve and try and do better for all those who support me.
It will be a long drive home.
Cheers,
Bill
Posted 27th October – photo Trevor Holt