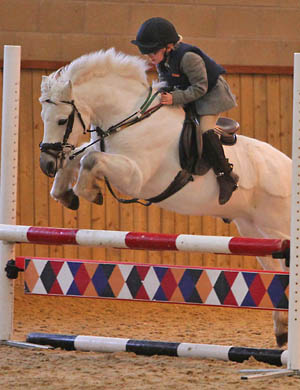 Today we've had a great day out with the kids – they were competing in their first little show jumping show at the Unicorn Trust, near Stow. It was a great family day out and we had a good time – and Toddy and Urssie were the stars of the show.
Josh and Urssie both took part in the 60 and 70 cm classes and in their first ever show jump jump offs which was very funny – there was much laughter as Jenny turned in to a nervous wreck and my competitive streak came to the fore, with Urssie and I discussing the turns she would make in the jump off.
Slipper was a little cheeky today with a couple of glance offs in each class but Josh was very sporting about it all and I heard him say to his mother – 'mum, it's one of those days – I've just had a bad day at the office!'
Toddy and Urssie excelled themselves – jumping two double clears. They have such a good partnership – Toddy loves the hugs and total trust Urssie has in him and after an autumn twelve months ago of constantly falling off him she has got her balance and worked out how to stay with him over the fences, despite still looking like a pea on a drum. She was the smallest by far in her second class and yet she's as brave as a lion, and Toddy thinks he's 14.2hh not 12.2hh so they sailed around –depsite their being plenty of air between Urssie's jods and the saddle at times.
Anyway a good family day out and even better that it's only 20 minutes up the road and in a large indoor school with coffee and seating on tap for spectators.
Thanks to our dear friend Fiona for the lovely pictures.
On a more sobering note our thoughts are with the Briggs family this evening, as they've once again been flooded which is so disheartening given they had only recently got everything sorted from the previous dreadful floods of a few years ago. My thoughts are with anyone suffering a similar fate at this time.
Cheers,
Bill
Posted 25th November