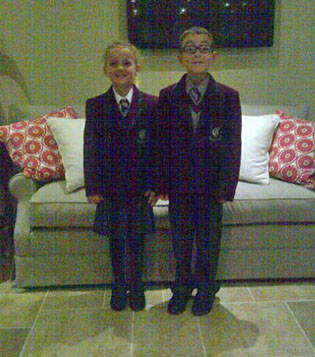 It's been a week of new adventures for Team Levett. As ever there is lots going on at home. I'm enjoying my riding and also enjoying being able to really focus on the horses I've got to compete now we've tweaked the model we have for the yard.
It's also been a week of firsts for 2013. I've had my first dressage lessons of the year with Gareth – and for the first time ever I got a compliment – well I think it's a compliment! He said I'm beginning to look like a dressage rider and that my understanding of the contact has improved so much now as well as my seat – so all good! Shows that even at my great age you never stop learning!
Josh and Urssie have had their first day at their new school which they are really enjoying. They have also just turned 8 which has been another big day for them and us in their lives. Everyone says how fast the years roll by with kids and sadly it's true; I often wish I could press the pause button with them and have time over again.
Finally, and I'm worried saying this I'll jinx the coming weeks, I've had the first days of 2013 without a drop of rain in sight, and even a ray or two of sunshine.
Cheers,
Bill
Posted 11th January