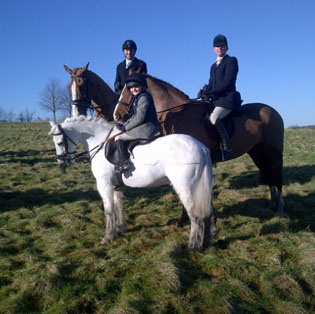 Well it's been a fun day and the sun has been shining which has been a very pleasant change. Our friends Sam and Ali very kindly invited Urssie and I out for a day's hunting and even lent me a horse.
I had a great day with Sam, jumping and galloping up with the hounds, I've never had a day's hunting like that – it was a totally new experience and I can now see why people get hooked. I was on a 'proper horse', great jumper and talented – could have been a very good eventer!
Urssie had her first taster of hunting. The mighty Toddy was a star and didn't boil over, behaving like an old pro looking after little Urssie, who'd never seen anything quite like it bless her. She coped well with such a different experience and Ali was very kind to look after her and keep her safe – she even came home with a war story after being caught on a branch as she ended up with a small thorn in her eye lid.
So much fun was had by us both and we are very grateful to our friends for giving us such a good day out.
Cheers,
Bill
Posted 2nd February