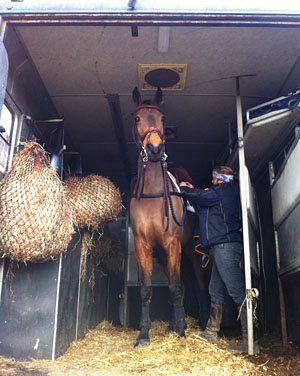 Competition was stiff today at WWEC: myself and one other girl were the only ones brave enough to weather the wintery conditions.
The outing was very worthwhile for the four boys. Tommy and Alex did the two star; Tommy managed to keep his cheekiness to a minimum and felt a little more mature. Alex did the best dressage test of the day with 72% but then had couple down show jumping. It felt like he needed a few more days to jump away from home, and with the Oz clinic coming up this will be perfect.
Then Silks and Ricky did the 3 star combined training. There was one prize for the two sections throughout the day and with Ricky's show jumping he came out on top. Silks warmed up extremely well for his test but the cold wind was too much for him in the ring. In between leaping across the arena in his test his score actually wasn't all that bad.
Cheers,
Bill
Posted 6th February