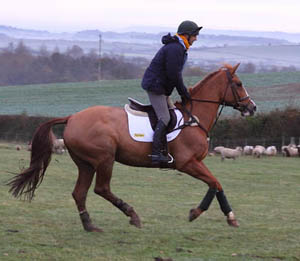 It's been a busy week for Team Levett. I took Silver, Silks, Dotty and Tommy show jumping at Rectory Farm on Thursday – it is always good to get the horses off the place and jumping away from home. They have a good set of show jumps at Rectory and a great surface. They all benefited from the outing, Silks, Tommy and Silver all jumping confidently around a track of about 1.15 several times and Dotty was very brave with all of the fillers – she just loves to jump.
Friday was then a trip to the gallops and dressage lessons. I took Ricky, Alfie and Silver for lessons and all of the others went to the gallops for a spin. It was novel to be galloping with the sun out, I'd almost forgotten what it looked like – it's been a week of odd weather with snow on Monday/Tuesday and double digit temperatures and sun on Thursday! There is only one thing that is certain with our weather and that is that it is unpredictable.
It's not long now until the season is here, and I am hoping for some dry weather this coming week so that I can get the horses out cross country schooling. It's been so wet that I haven't ventured out yet but I hope to be able to do so at the back end of the coming week all being well.
Cheers,
Bill
Posted 15th February