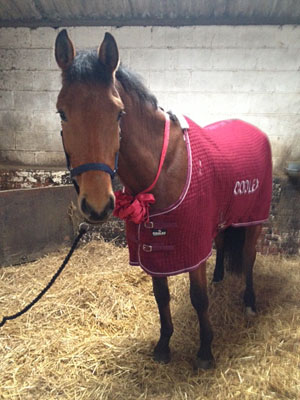 It has been great to see a bit of clear blue sky recently rather than wet, windy, snowy weather.
I've been out at the gallops and show jumping with the horses this week and they definitely benefited from getting off the place to go show jumping. So it's been a productive week. I hope the good weather continues for a few more days at least so I can get out cross country schooling.
The big occasion today was on arriving home from show jumping the children stopped me in the middle of the drive near our stables and made me get out of the lorry. The kids then proceeded to take me (eyes closed) in to the stables. Jenny was in one of the stables with a horse that was not there when I left for show jumping!
The horse is a lovely 5 year old called Gus. It turns out it is my 50th birthday present arrived early! He was stood there all ready to be 'unwrapped', with a bow, smart rug and birthday notice on his door – bless him!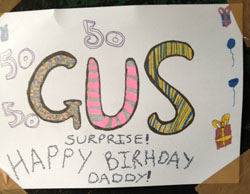 I am SO thrilled to have my own horse, and I was completely shocked as I'd not expected it at all. I could not think of a better present and he seems to have a really lovely nature.
Anyway watch this space, although this year Gus will be going slowly as he was an October foal so I will go quietly with him.
Cheers,
Bill
Posted 20th February