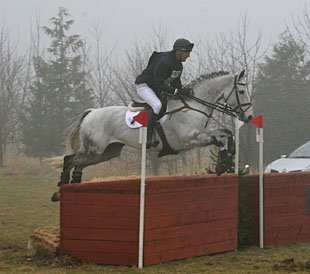 With rain overnight and a thick mist descending, from a riders point of view everyone was wondering if they where going to run the cross country today, as you couldn't see more than 50 meters in front of you. However thankfully the mist cleared slightly, and the officials dropped the intermediate time cross country down to novice speed to get the whole show rolling.
The three boys (Womble, Silks and Alex) did nice dressage tests, with Womble and Alex 2nd in their sections and Silks about 6th. The show jumping was quite square and clear rounds weren't easy to come by. It's always different for the horses jumping on a surface over the winter and then having to start jumping on grass. Alex had 2 down, Womble one and Silks jumped clear with a couple of time penalties. It just felt like they needed a couple of shows on grass to get completely in the groove.
The cross country going was still very good despite the rain, and the course seemed to flow and ride very well with the changes they've made. All the boys made this phase feel quite easy with Womble and Silks getting the time and Alex 8.8 time. They all came home with ribbons. Alex 8th, Silks 7th and Womble 2nd. Seems like a nice event to get them going for the season.
It's now a weekend at home and as I've been suffering from a stinking cold all week. I'm hoping a few quieter days will enable me to shake that off.
Cheers,
Bill
Posted 8th March – photo Hilary Manners