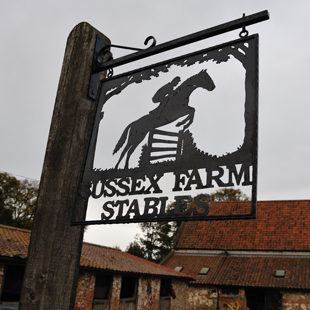 Well we've arrived safely at Burnham Market and it's running! The ground is really good, ironically probably the best it has ever been as it has a cut in it but it's not deep or too firm.
Alec and his team have done a good job to get it all set up and sorted. They have made some changes to the cross country course and I would say it is a strong but fair 3 star and intermediate for this early in the season – I like the tracks and am, as ever, pleased we made the trek to compete here. The second water should ride better than last year as it is more obvious where horses have to go in the three star, but the fence before that is a double of corners with a very difficult line to hold so that will be interesting.
I had Alfie, Womble and Ricky in the dressage today and all the horses did their best on the flat all scoring sub 50: Alfie 44, Ricky 48, and Womble 49 with plenty of improvement still to come from all of them so I was very pleased. I feel like the training over the winter is really beginning to pay off as I feel more confident in what I am doing training the horses and riding the movements in competition.
Tommy is taking his first trip staying away in his stride which is great. All the horses are on their toes as it is very cold but at least dry and no snow so far!
Tomorrow it is Tommy's turn in his first intermediate and Silks does his 3 star dressage.
I'm off for an early night as I'm fighting a heavy cold/flu and feel dreadful. When I'm off my food you know I'm ill! I'm very grateful to my team (Mel and Emily) and owners Clare and Ali for jollying me along today and looking after me patiently when I've been feeling so unwell.
Hoping tomorrow will be a better day and I will feel more human, not least because Jenny and kids arrived this evening to surprise me ahead of my birthday tomorrow.
Cheers,
Bill
Posted 28th March – Photo Leigh Goodsell