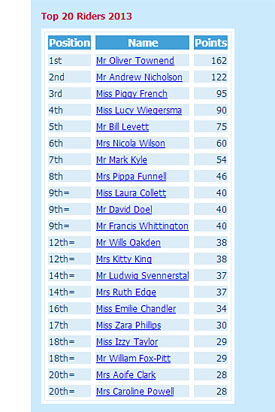 As I write this the sun has actually made an appearance!
We've had a good week working the horses at home and on the gallops and survived the continued arctic conditions. I'm had my sisters staying which has been a real treat. They leave today but it's been lovely so I'll try not to be to sad!
The horses are on good form at the moment so fingers crossed this lasts and I can continue to hold my position in the top 10 rankings! I feel I have some great horse power, so with a pinch of good luck and if I ride well, who knows.
I'm at Weston Park this weekend on Saturday with Dotty and Silver and then Lenny will make his eventing debut in the unaffiliated at Aston on Sunday.
Let's hope the sun continues to shine and the temperatures begin to creep up to give the farmers some respite and for our grass to begin to grow!
Cheers,
Bill
Posted 5th April