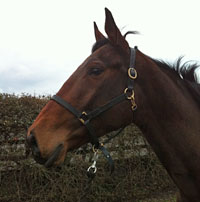 For Lenny's first day out eventing with Team Levett he took a trip to Aston-Le-Walls on his own in the little blue lorry! If you haven't competed a horse before you never know how they're going to react when they get to a competition but Lenny took it all in his stride. It's always different taking them to an actual competition as opposed to schooling or little schooling events and putting all three phases together in one outing is a lot for a young horse.
He had one little moment in the canter in his dressage test, he was very genuine in the show jumping but unfortunately had 2 rails. The fillers and different types of fences didn't phase him at all! Cross country he took on the same way he did the showjumping, very willing, the only thing that he looked at was a corner fence which he spooked at slightly.
I always find it rewarding for horses to get out and start the job that they were sent to you for. Next stop BE100!!
Cheers,
Bill
Posted 7th April