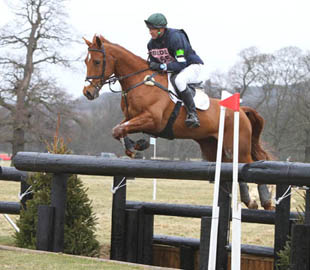 Well we avoided the rain on the second day of Belton; just as we were packing up to come home it started. Seems like back home as yesterday they have had a lot more rain which is very boring. Yesterday I was a bit disappointed in Alex's dressage as he got tense but today I couldn't have been more pleased with him as he jumped a clear show jump round and gave me a fabulous clear inside the time cross country. Alex's galloping ability will certainly lend him towards being competitive at the longer more difficult cross country courses. When I left he was in about 6th place.
Ricky was doing his advanced test and he scored a 32.5, not in the lead but being handily placed. Silks went a lot better than at Burnham Market finishing on a 44.1.
In terms of the cross country fences the combination that Tommy fell at yesterday definatly wasn't quite right in my opinion. It comprised an oxer with two long strides to a skinny log four shortish strides to a difficult corner. If you rode the first distance correctly the horse got punished in the second distance. It was just one of those combinations that didn't work and I saw lots of horses have very difficult times through the combination and there were quite a few that almost fell.
For my boys tomorrow in the 3* it will certainly be the biggest test in terms of lines that they have jumped. It seems like a fair cross country track but not for the faint hearted.
Fingers crossed we have a good day tomorrow.
Cheers,
Bill
Posted 13th March