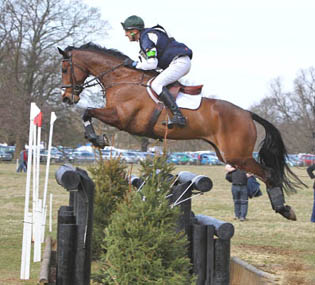 Today was another early start but it was nice to leave the house and for once feel a warm(ish) breeze!
Ricky was first up, show jumping at 8.30am in the main arena – it was warmer today but there was a hell of a wind and the show jump arena party did an excellent job to keep the fences up (mostly) during the day. Ricky was a little against me in the show jumping and tipped out two poles which was frustrating, just one of those rounds where I didn't quite have the rideabililty I wanted – I will go back to the drawing board to play around with bits and make some small adjustments I think.
Cross country it also wasn't my day with Ricky – he went the best he has ever gone in many respects – giving me a cracking ride until three from home when he jumped in a bit quick over a triple brush and I couldn't get my line/turnabilty to a right handed corner as he was a little against me. It was just one of those things and I absolutely know what I'd do differently next time. He was an absolute top the rest of the way round – especially through the sunken road which caused a lot of problems. So overall I was thrilled with him although the score board doesn't reflect a good day for him. It was not his day but his day will come.
They took the sunken road out after there were about half a dozen fallers at it – including Stefano and the lovely Apollo – who had a nasty fall. I was torn on this as I was keen to give the horses the experience over this kind of fence but it was a tough ask so in some respects I was happy to sail past it in the 3 star!
Womble was next up and today was a big test in the show jumping after our disaster at Burnham Market. I've been playing around with bits at various locations away from home (thanks Ali for your assistance), had a couple of lessons with Roland and had made some changes which I felt improved things but you never really know until you get in the ring. Womble jumped a great round just tipping out the 4th fence, an upright, which was annoying.
He then went fantastically cross country – again with changes to his bitting. He hummed around and I could not have been more pleased with him around what was our toughest test to date together. Go Womble.
Alfie was next up and he also jumped a confident show jump round, frustratingly just rolling the first fence and picking up two time penalties which were my fault. Alfie then flew round the cross country feeling confident and mature on his lines and through the combinations. I couldn't have been more pleased with both Alfie and Womble and they both picked up minor placings in the three star.
Silks was last to go – it was a big test for him as he has limited three star experience and has been 'off games' at this level for a while. However he's a thick skinned toughy who tends to take things in his stride and copes well with things mentally – he is very talented and never seems to get phased by anything. He jumped a class show jump round, annoyingly just tipping out the last show jump, not sure why – it felt like he just breathed on it behind. He then went brilliantly until the last combination where he was naughty, cocking his jaw at the same right hand corner as Ricky and running past it – Ricky wasn't naughty as he never sighted the fence having jumped off his line, Silks was a bit naughty as he was sighted on the fence and then was a bit rude and ducked out. It's something I can address and I know how to fix as I would ride this kind of combination differently on him near the end of a course but it was frustrating as he was on for a top 10 placing most probably. However that is horses and he had gone brilliantly around the rest of the track.
The ground held up well and rode well with enough cut in it and the track was, as ever, testing but fair and rode well. It was a great run for all the horses in the build up to their Spring CCI goals at Saumur and Tattersalls.
Tomorrow will be a quieter day at home after three long days off the yard, with some of the young ones to ride and then the coming week sees dressage lessons, gallops and show jumping and the young horses out at Solihull on Sunday.
Cheers,
Bill
Posted 14th April