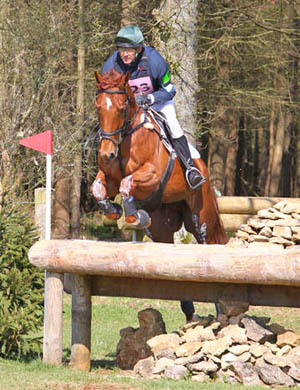 Well the cold weather has come back to bite us. Badminton week is just about to start, so for us that normally means Withington, which is only 40 minutes away. The course and the lay out are up with the best events but not for the faint hearted: nearly always up to height in both the show jumping and the cross country but well built. Withington can sometimes be a bit on the firm side but the ground this year seems perfect with the horses getting a lovely cut in it.
Tommy was doing another intermediate and as he has had a couple of not ideal experiences cross country lately, falling up a step at Burnham Market and almost falling at Belton I was interested to see if he would be a little apprehensive whilst staying confident, but fortunately he had bounced back from those two runs and he gave me a really lovely ride. So I was very pleased and our aim remains Saumur CIC2star.
Alex did the 2* dressage and intermediate show jumping and cross country. These sections are really helpful for getting ready for your international classes as you can assess how your horse is going more easily. I was pleased with his dressage as he was much more settled, and with one down show jumping and a super ride cross country he seems on track for Tattersalls.
Alfie was the only other horse I did on Saturday. He has improved a lot in his dressage; like my trainer Gareth Hugh's said at the start of the season, it will take all this year to get him established. Back at Withington tomorrow for all of Womble and the cross country and show jumping with Alfie, both in the advanced. Lets hope they come through it well.
On a separate note Josh and Urssie did their first team show jumping with the PC yesterday at Hartpury. Besides the picnic and outing with the dogs which are always a highlight they seemed to enjoy their first competitive outing and Urssie jumped two double clears and Josh did similar bar rolling one pole. So all in all a good day out. They ended up third out of 15 teams against lots of older children. So a very proud dad!
Cheers,
Bill
Posted 27th April