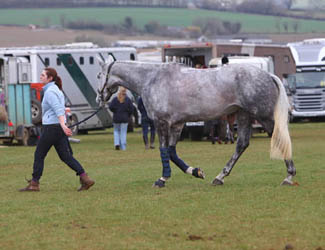 After a very successful day yesterday, today showed that the life of an event rider is very much one to be lived on a day to day basis! Yesterday I won an Intermediate on Tommy and could have won the OI on Alfie with a 19 dressage. But today Silver had a couple of run outs at a triple brush cross country, and Dotty found the dressage far too exciting!
In Dotty's defence she did jump a lovely double clear and I have no doubt that the dressage will eventually come to hand. It was Silver's first ever intermediate and she managed a respectable dressage and a really lovely clear show jump round. On the cross country she was very brave but when accuracy is required she still struggles to hold the line.
A lot of schooling in the next two weeks will be needed, to try and be able to get a clear round on the cross country at Tattersalls. So it's back to the drawing board but I'm sure both of them will have their day eventually.
Today's weather was much worse with really strong winds. The novice cross country in relative terms was slightly more difficult than the Intermediate course, so it was well done Dotty to make the novice cross country feel so easy!
This weekend I head to Chatsworth with Silks and Womble for the main CIC class. I hope the weather improves.
The kids are also out and about show jumping again with the pony club team so I will have competition for blog space come Sunday if we all go well this weekend!
Cheers,
Bill
Posted 9th May