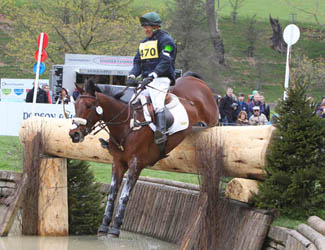 As I only had two cross country and two show jump rounds today, I had time to walk the cross country course again this morning. For both Silks and Womble it was their most difficult cross country test to date bar none. Some were saying the CIC*** main class (which had extra fences in it vs the 'normal three star' was more of a four star test. I tended to agree – I felt the three star had a couple of combinations that would not look out if place in the next level up.
The fence that I felt rode the strongest was the first water complex, being a log, two strides to a big hanging log in the edge of the water jump. It was a very big drop in over this log which took a lot of bravery from the horses.
With both Silks and Womble this was the only fence they had a slight hesitation at. Silks went a little bit faster than Womble cross country and finished 6th overall, his best result at this level to date. I was very pleased with the feeling he gave me cross country, taking it all in his stride and feeling like he had plenty of gallop – I'm thrilled for Francis who owns him, he feels like a four star horse in the making.
Womble proved again that he is a horse with big time potential by jumping a double clear. The show jumping track was fairly strong with plenty of related lines. The ground underfoot was very good and the time on the track quite generous. It's always a nice feeling to go into this phase knowing that you have two horses that have a good chance of jumping clear. As I said earlier Womble jumped a lovely clear and Silks was unfortunate and had one down.
So now these two boys will be wrapped in cotton wool before heading to Tatts in three weeks time.
Cheers,
Bill
Posted 12th May