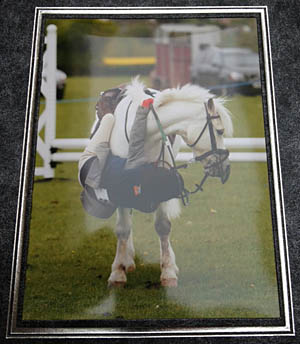 See the picture before you read this! Ursula is vying for the front cover of the website to replace me.
Josh and Urssie were at a PC team show jumping event today and had a good show with their team mates. Third as a team in the first class with Ursula individually fifth and then a WIN in the second class for the team and Josh individually fifth.
They had a good day topped off with a hot chocolate and a picnic with mummy on the lorry ramp just before the heavens opened. Only sad I missed it.
Another busy week ahead preparing horses for Tattersalls and Saumur which are coming up thick and fast.
This week sees us at Rockingham on Friday and Saturday and then at home with a yard visit from a local riding club on Sunday afternoon.
Cheers,
Bill
Posted 13th May